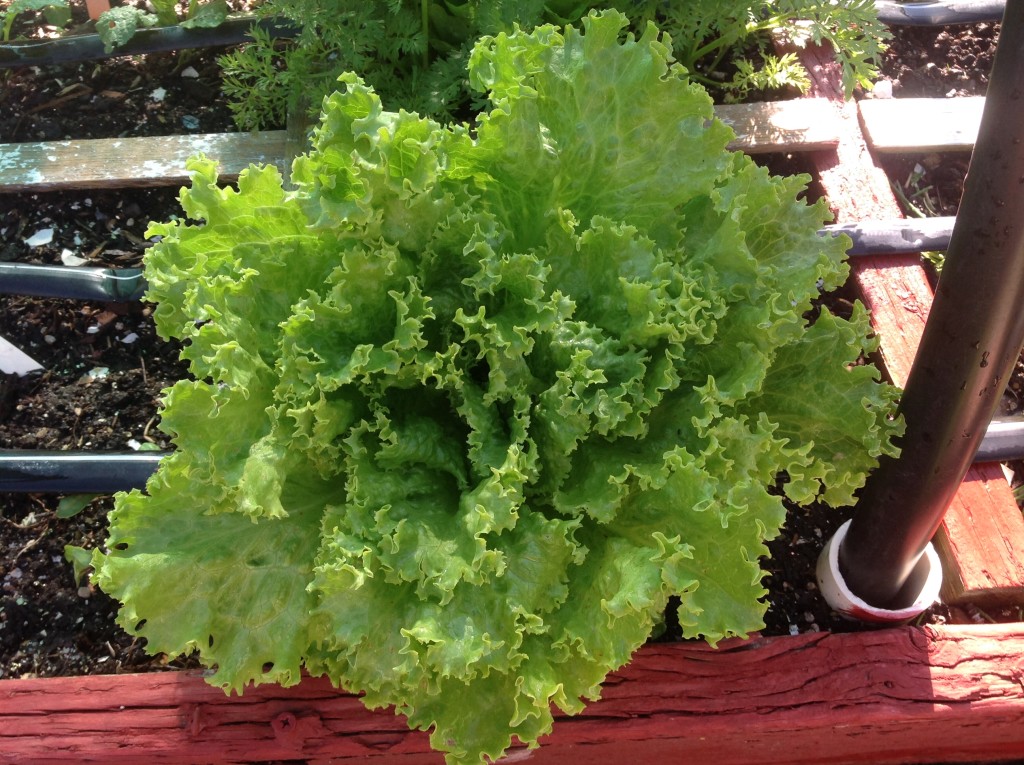 How about some suggestions for the upcoming holidays? Since my birthday follows so close to Christmas it's a fun time of year. I spend a lot of time reading through the seed catalogs in order to find new things to try. And, I usually try a lot! The folks who do the marketing for these companies-they are very good. One gets the idea after reading any description of seed packet that all of them are equally great. I don't think that's the case.
One of my favorite things to receive from family or friends are gift certificates to seed companies I love to buy from. There are many to choose from, but I've become partial to those I've done business with.
The picture for this post is a lettuce variety called Green Ice from Burpee's. You can read the specifics of this variety here(read reviews.)  I've grown this for two yeas and I continue to be very pleased with it's ability to withstand the colder temperatures of the early spring and late fall. It's a crispy type of lettuce that tastes very good. I like to harvest for our daily salads by snipping a few leaves of several lettuce types. That way, the head lasts us longer and it allows us to have a very different tasting salad every night.  Green Ice has come back twice after the first snip of it's outer leaves.
As we move into the winter months I'll be making more recommendations of the items I've had success with and which do well in our climate-zone 6B.  Many of these will be different lettuce varieties.  It's my favorite crop, it's easy to grow, it's cheap, and it tastes so good when just harvested from the garden.  You'll hate buying lettuce from the stores after you've tasted your own.
And, you don't have to limit yourself to seeds.  What about a friend or family member who is planning to have their first garden next spring?  They will need more than just seeds.  Maybe an entire seed starting kit would be the perfect gift for them with all the supplies needed to get them off to a great start?
The best thing about buying from catalogs?  No question-the great variety.  And with the way square foot gardeners plant, only using 2 or 3 seeds per hole, your 700 seeds of lettuce are going to last you for a long time
free square foot gardening seasonal newsletter