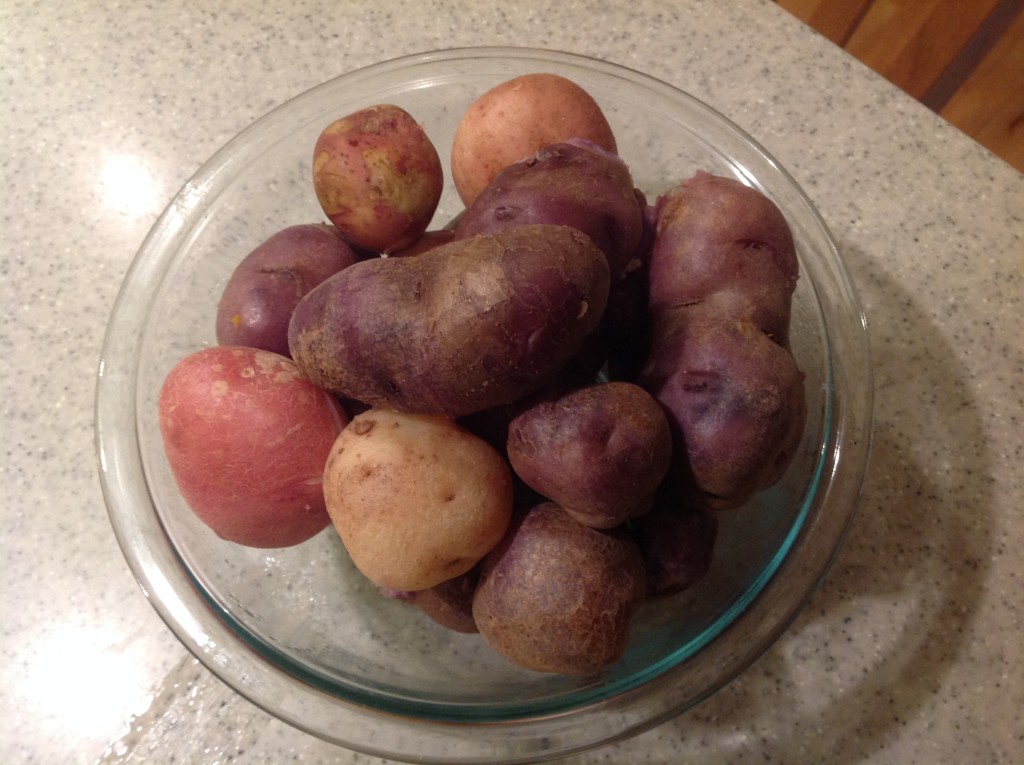 It's been a mighty cold winter so far! We've already had to deal with frozen water lines on New Years day. Talk about starting the year off on the right foot!
One of the things I can always rely on, no matter what the weather brings, is a good potato harvest from my square foot gardens. Under protective covers I've got somewhere in the area of 35-40 pounds of potatoes. This is plenty to get us through the winter. If I needed more to feed everyone I would just have to plant more at the right time. Each square of potatoes is further protected by a thick layer of fall leaves, which provide even more protection. The only work I have to do for harvesting them is to pull back the protective covers, locate the square of potatoes, and then dig in for the gold. Even with temperatures in the single digits(and lower at night)the dirt is loose. None of them have frozen because of the three layers of protection.
This year I experimented with several varieties of potatoes. I've always been partial to Red Pontiacs. The taste is unsurpassed. However, I've now discovered a few other varieties that are every bit as good, but they come in different colors. You can see the Red Pontiacs, but you'll also see the yellow and purple potatoes. The taste is magnificent! I'll certainly be planting more of these this year.
And this year is almost here for us northern U.S. gardeners. I'll be harvesting what I have under protection for at least another month, when I'll then begin planting anew. Get those seed catalogs out! Right now I've seen one variety of squash that I'll be growing for the first time. I've always heard great things about it, so I'll be trying it. Its an Italian squash called Tromboncino. Give it a look.
free square foot gardening seasonal newsletter