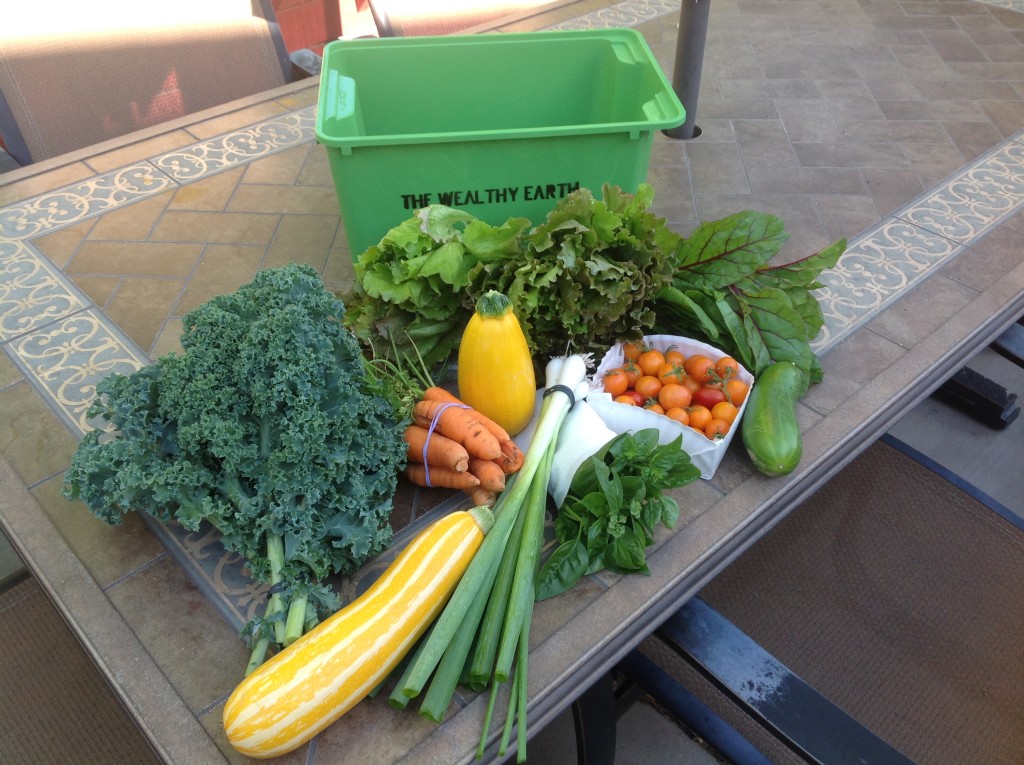 This time of year is a lot of fun. All the planning put into the garden are paying off by way of large harvests. Lettuce, carrots, basil, cherry tomatoes, squash, zucchini, chard, cucumbers, melons of various varieties, corn, etc. The most enjoyable part for me has been the summer lettuces. We've had a pretty hot summer and I've been able to grow the specialty lettuces right through the season. And we've got more hot weather coming in the next week. Once you hit that 85+ degree mark it's very difficult to grow lettuce without having it bolt and go to seed.
I've been able to grow vegetables and produce for 8 families this summer. I think I'll keep all those customers for the fall season as well. I love the idea and concept of CSA's. When I think of CSA's this is what comes to mind: lot of work requiring time that I don't have. If you know neighbors or friends who belong to CSA's they love them but are always a little perplexed by some of the items they get in their baskets. It's been estimated that 15-20% of CSA items are thrown away because customers don't know what to do with that kohlrabi-or whatever different thing they might have in their basket. To compensate for this CSA's will add a recipe card for ideas of how to use unknown or unfamiliar things.
My baskets have no recipe cards because they contain items that everyone knows what to do with. There's no recipe cards needed for the items you see in this basket. You may think it's boring but my customers are always getting organic produce and veggies that have been harvested just a few hours earlier. I've had comments saying that nobody can beat the taste of these lettuce, cucumber, or cherry tomato varieties. And the squash/zucchini varieties are very popular as well. I do vary the varieties and color of the lettuces throughout the 6 week period. Either way, I think it's tough to beat the taste of my salad greens and veggies.
If you haven't gotten the harvest you expected or things don't seem to do grow well, you might want to consider learning the square foot gardening method. The backbone of the system is the soil-which is perfect for anything you'd like to grow. There is the upfront cost of putting it together, but how much does it cost you in terms of money and frustration to have those same old tiny tomatoes that don't grow to full size-and it's been going on for years? Or carrots that don't come up? Or, how about the critters that attack your garden every year? And we haven't even mentioned the weeding! The square foot gardening system is so easy to learn. You'll have 100% of the harvest in 20% of the space of that old traditional row garden.
Labor day will be here in a week. This spells the end or the beginning of the end of the gardening season for the year. I don't know about you but I'm getting ready for my fall crop. And since I haven't spent a lot of time weeding and watering I have a lot of energy left to devote to that.
free square foot gardening seasonal newsletter