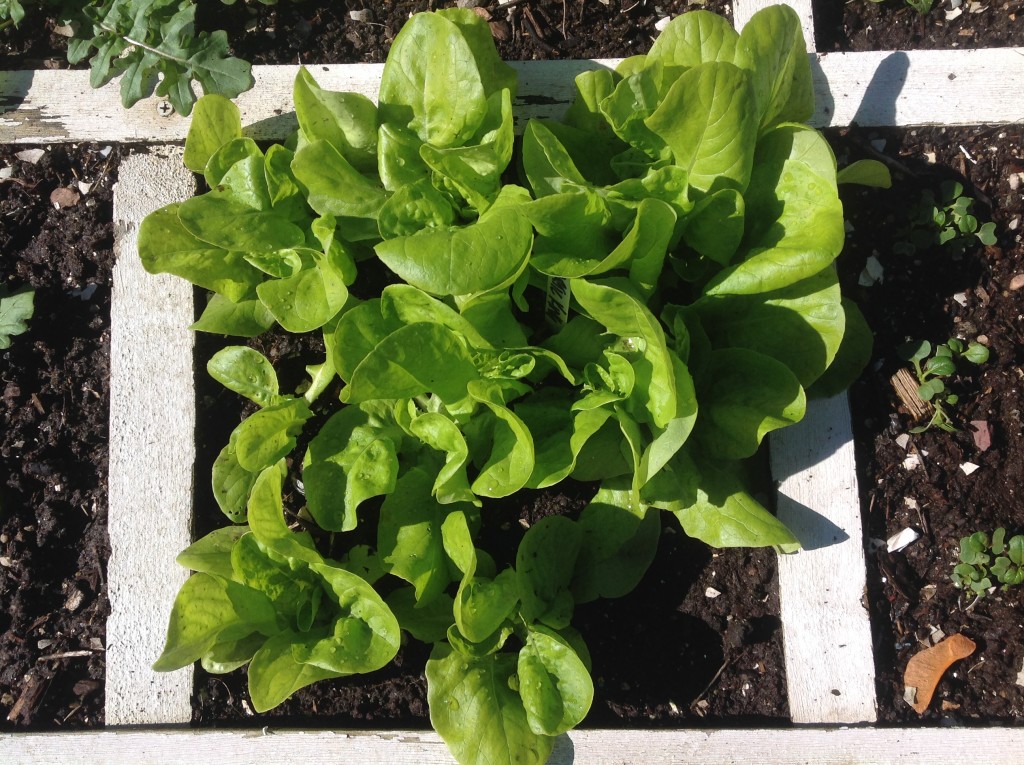 This will be my second season growing this unbelievable lettuce for the winter.  It holds up well in the freeze/thaw cycles better than some of the others-as long as it doesn't get too big.  In my experience the larger lettuce leaves turn into soup after 2 or 3 freeze and thaw cycles.  I think smaller lettuce leaves do much better than the larger ones in our zone(6B)during the winter months.
I've only got 3 more squares to plant for the winter, and those will be finished this week.  Everything else is the perfect size heading into mid-November.  There's only about 3 more weeks of active growing before everything starts to slow down.  At that point even the smaller leaf crops almost hibernate until about the first of February, when they come back with a vengeance.  Either way, I like to get things going as fast as possible in late winter.  For those crops that are a little small right now-they will be the first up in the spring.  If you can plant in late-summer or early fall with the right crops you'll be able to do the same thing in your square foot garden.  Or any garden for that matter.
For you visiting warm weather gardeners-you may not be interested in this variety of lettuce as its made to withstand more difficult weather-as the name implies.  You can learn more about this little lettuce gem here.  For you cold weather folks, you ought to consider this lettuce.  Sure, there's other great tasting lettuces out there-and I do grow other varieties that I'll share with you over time.  But you'll not get a better performer than this for the winter garden.  If you're too late to order and plant now, which you probably are, then keep it in mind for the late winter/early spring harvest.
Or even better, the holidays are around the corner.  My favorite gifts have always been certificates from the seed companies I advertise on my blog.  Why not take the stress out of the crazy holiday shopping season(unless you like that!)and buy your family/garden friends some seeds!  If you keep a close eye on my blog I'll let you know when these companies are offering free shipping.  If you don't want to wait for that you can buy anytime.  By the time you pay for a couple of seed packets and shipping, it will be about $12.  If you wait for free shipping, it might only be $7 for 2 packets.  That's a pretty cheap gift-and one that will last for years!  Gardeners love to get great seeds.  And if one packet of lettuce can give you 500-750 heads, thats a pretty great gift
free square foot gardening seasonal newsletter