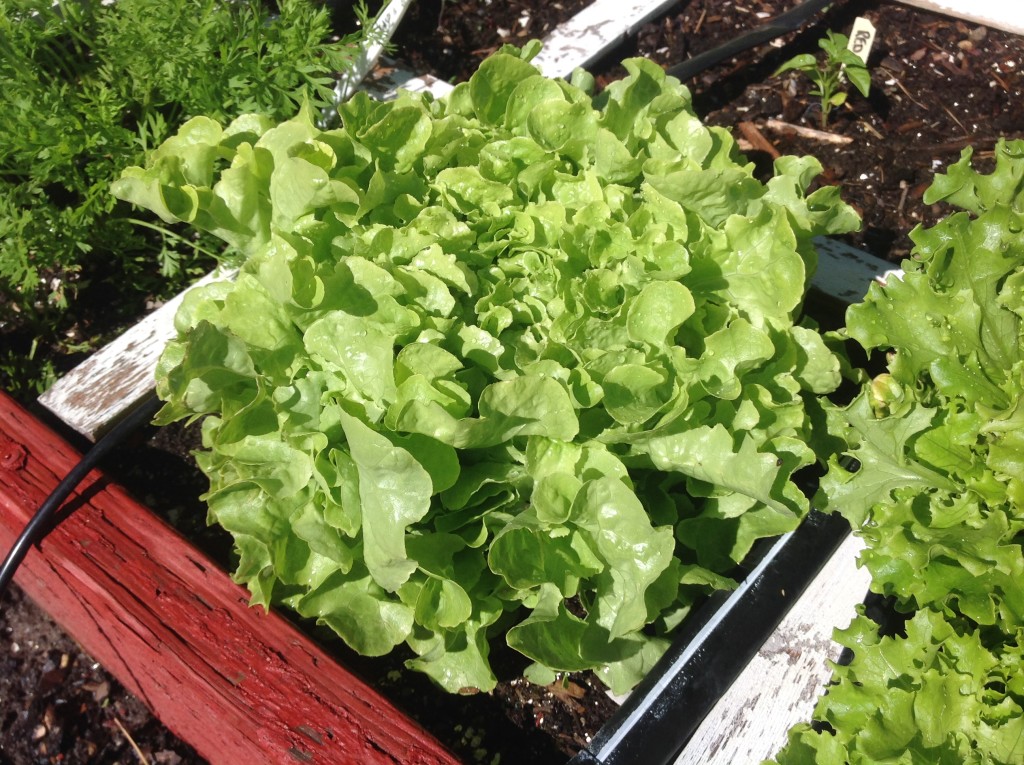 This is one great head of lettuce.  I've been growing a lot of different varieties this spring and summer, always trying out new things.  I had a visitor on my Facebook page ask if this is only "one plant?"  I think the question came because of the traditional spacing for lettuce in the square foot garden system.  It is different for this particular variety.
As you look at most lettuce seed packs it will say "thin to 6 inches."  This is why lettuce is planted  every 6 inches-in both directions-in a 12 inch square, or 4 lettuce seeds per square.  If you had a 2X2′ box of nothing but lettuce you would have 16 heads.  For a 4X4′ it would be 64 heads of lettuce.  But what if the seed packet says "thin to 12 inches?"  Thats the case with this variety.  This means one seed goes right in the middle of your 12 inch square.  The spacing guidelines of 1, 4, 9, and 16 are the general rules that are taught during SFG classes and hold for just about everything.    If you look at something like beets for example-SFG instructors and the SFG book will say to plant them 9 per square.  I don't know of a single variety of beets that would break this spacing.  But then something like this lettuce comes along and does break the spacing guidelines.  I guess that's why they're called guidelines-bacasue there exceptions.  That's why SFG instructors ask participants to look at the "thin to" information on the back of all seed packets.
This variety of lettuce is called Encino.  I bought if from Territorial Seeds, which is a great seed company.  It's an artisan lettuce that grows in 55 days and ends up being 15 inches around and 9 inches tall!  Unbelievable.  And the taste?  I just cut a few leaves last night and it's excellent.  The leaves are very buttery tasting and resemble  the oak-leaf varieties in texture, but with a little more firmness.  When harvesting the leaves you notice the white core which you can't see from the picture.  It's described as "enormous plants that are overstuffed…that form impressive ottoman-like mounds."  If you've never tried this variety of lettuce you ought to.  Yes it tastes very good, but the looks of it!  It's the first thing a visitor to my garden a few days ago noticed and asked "what is that?!"  Very impressive.
You may notice some changes to my blog over the next few weeks.  There will be 2 things I'll be adding.  First, I will be selling seeds from Cooks Garden(Burpee.)  When you read the descriptions in seed catalogs you get the idea that everything is great!  The folks who do the marketing and write up the descriptive portions of each seed are very good at what they do.  I always have a hard time not buying seeds because the write-ups are so good.  I thought it would be a good idea to spend time and money growing as much as I could the past 3 years.  Lots of varieties.  I would say for the most part the write-ups are accurate.  But every once in a while you do get a dud.  And I've had some.  On the other hand I've had some very, very good crops that I absolutely love which I wouldn't have known anything about if I wasn't a big experimenter.  I'm not sure if my love of great tasting food drove my gardening hobby or if it was the other way around.  Either way, I've learned a lot.  I'll be putting my two cents worth on the items I've had success with(or lack thereof.)
Second, I have a new eBook coming out shortly.  Hopefully.  There's nothing more maddening during the hot summer months to have all these delicious vine-ripened summer tomatoes being harvested and no lettuce to go with it.  Sure you can go down to the store and buy heads of lettuce, but why?  The same different that exists between a summer tomato and a plastic winter tomato holds true with lettuce as well.  Without question.  The challenge is if you live in a climate that has summer temperatures of 85 degrees plus it's next to impossible to grow your own lettuce-which is why many home gardeners don't even attempt it.  But what if you learned a method that would virtually guarantee delicious home-grown lettuce all summer long?  That's the subject of my new ebook.  Keep an eye out for it, I think it's going to be good.  The delay is making it available on as many different platforms as possible-Amazon, iTunes, my blog, and possibly even on the Square Foot Gardening Foundation website-where my first ebook is also sold.  If you're wondering how to grow lettuce during the summer, this will be the book for you.
Learn how to grow your own food this summer.  It's not too late-and it's never too late for a square foot garden.  You can have a small 4X4′ garden with a minimal amount of crops(see last post for an example)that are easy to grow.  Try it just for a summer.  You will be so glad you did.  And you'll learn to hate buying any of it at the store
free square foot gardening seasonal newsletter