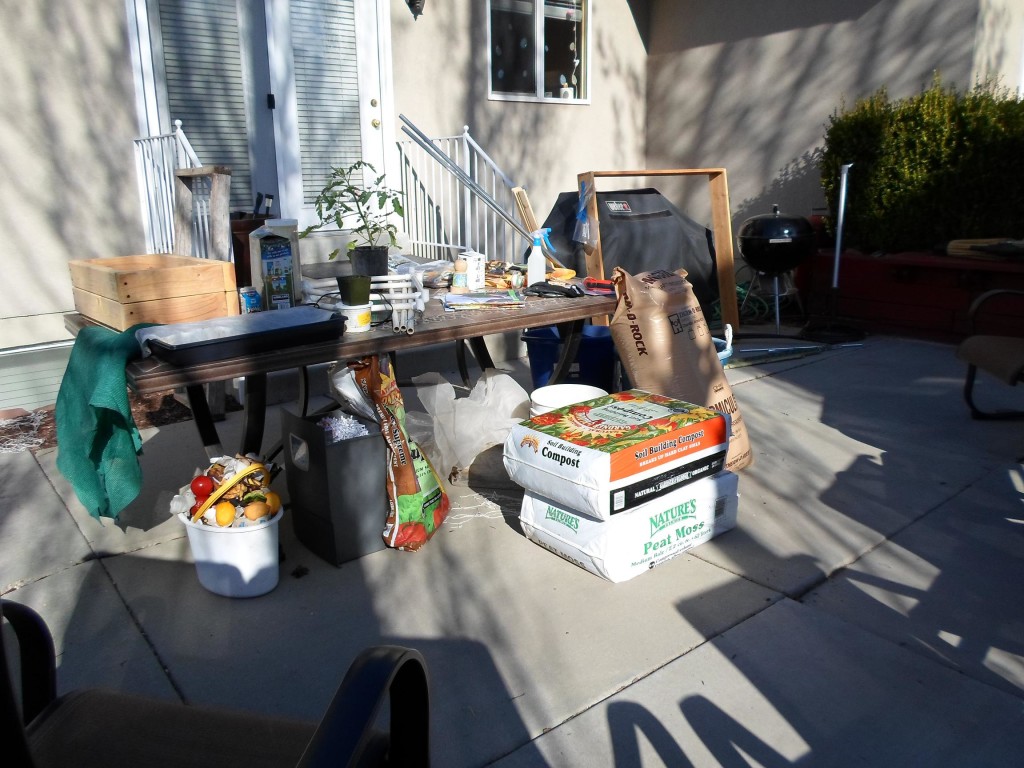 SFG Lite class: This introductory 75 minute class discusses the 10 basics of square foot gardening.  You'll leave with a small pamphlet reinforcing all the points discussed to get your gardens up and running.  Questions about location, sunlight, standard plant spacing and crop rotation are all addressed.  I'll take time to give you a crash course on composting so you won't have to spend another penny on store bought fertilizers, and we'll spend a considerable amount of time on the special soil you'll use for your garden.  It's the most expensive part of the system but it's very important to know why we use each of these ingredients. Because these classes are held in late summer and early fall we don't spend any time on the advanced techniques of the SFG system. You don't need them for this time of the year. But it will give you plenty of time to gather your supplies and other items to have a fantastic fall harvest.
SFG Workshop: The complete course that begins with the basics and then moves on to the advanced techniques. This is the class for those planning extensive food production. It's conducted as a workshop and is only offered during the spring season. Materials needed for starting seedlings, building a box, mixing the soil, spacing, and making the grid is the first half of class. The remainder of time covers the advanced techniques of vertical gardening, learning how to successfully compost, and summer/winter protection. There is not any class like this offered in the entire state of Utah. Upon completion you won't be needing to rely on others on how to SFG. You'll leave with a lot of confidence in having a successful garden where you can feed your families healthy, organic, and delicious food. This is a content packed class. Please bring a pair of gardening gloves. Notepad and taking pictures is recommended. Complimentary items given out at completion.
SFG Fall/Winter Low tunnel class: Learn how to be a four season gardener! The ultimate class in extending the harvest from fall through the winter season. Attendees leave with information on the crops to grow for winter, and the planting dates to get them started. You'll learn how to anchor your structure firmly to withstand our winter season and the additional material needed for protection. Most important, you'll leave with the structures necessary to build your own low tunnels. These unique structures will enable you to extend your garden harvest into the fall and then on to winter if that's your desire. This is a content rich class with enough material to cover another day of learning but I've done my best to compress all the information. Notepad is recommended. Camera is also helpful. Class is one hour long.
Composting class: This is a one hour class. You'll learn alternative structures you can build free of charge to start your own compost operation. You'll also learn how easy it is to make the perfect homemade compost for your garden needs. You'll see what finished compost looks like, what materials are used, how much of each material to use, how to speed the process up, and when it's finished. Done correctly you'll see how easy and fun it is to make your own compost in as little as 6 weeks. I've been doing it for 15 years and the results speak for themselves.