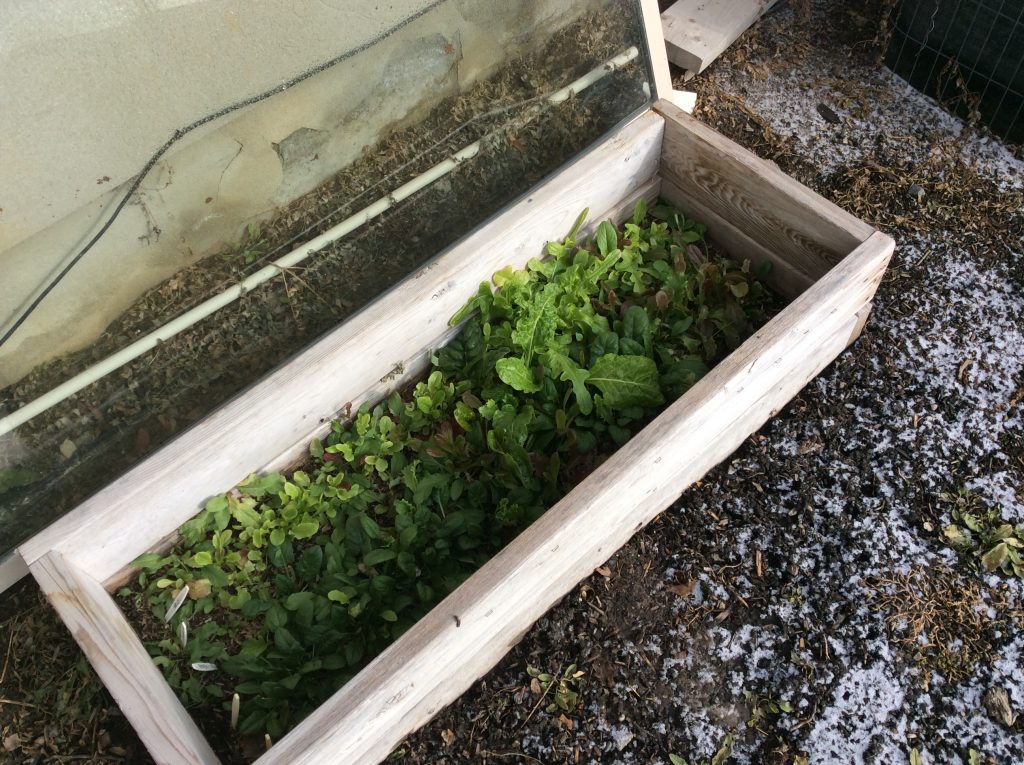 This is supposed to be a cold frame but it really isn't. I learned this idea from Mel Bartholomew many years ago, and he writes about it in his first book, which is a condensed version of what he wrote earlier in the publication of The Avant Gardener in 1978. The article is long out of print so you wont be able to find it easily. This is called a sun box. A google search for sun box will give you nothing close to what this is.
What's the difference between a cold frame and a sun box? A cold frame is something that is usually fairly permanent, and usually fairly good sized. It's usually dig into the ground and placed at a low angle on the southern side of a yard to get as much of the sun as possible, especially in the winter months. The back of traditional cold frames are much higher than the front and they can be pretty heavy and bulky. It's covered with a variety of things ranging from expensive, self venting tops to cheap things such as wood with plastic stapled to it to act as a protective covering over the top. Cold frames can be very expensive or pretty cheap.
A sun box is different. It is not dug into the ground. It is not permanent. The back is the same height as the front. In fact, its nothing more than portable wood boxes that have been placed on top of each other. Thats it. They can be moved around, taken apart, added upon, etc. in about a minutes time. They are great for last spring and summer. When you tomatoes(or anything else) need to be hardened off and they begin to outgrow your cold frame, you're almost forced to plant them in the garden. All you need to do with a sun box is add another portably wood box on top of what you already have. Then all I did was buy a $5 glass window at the Re-Store to place on top for protection. We've had a tough winter so far with more coming. As you can see, the salad greens have done amazingly well. And I just had a small salad-it was wonderful.
free square foot gardening seasonal newsletter
free square foot gardening seasonal newsletter