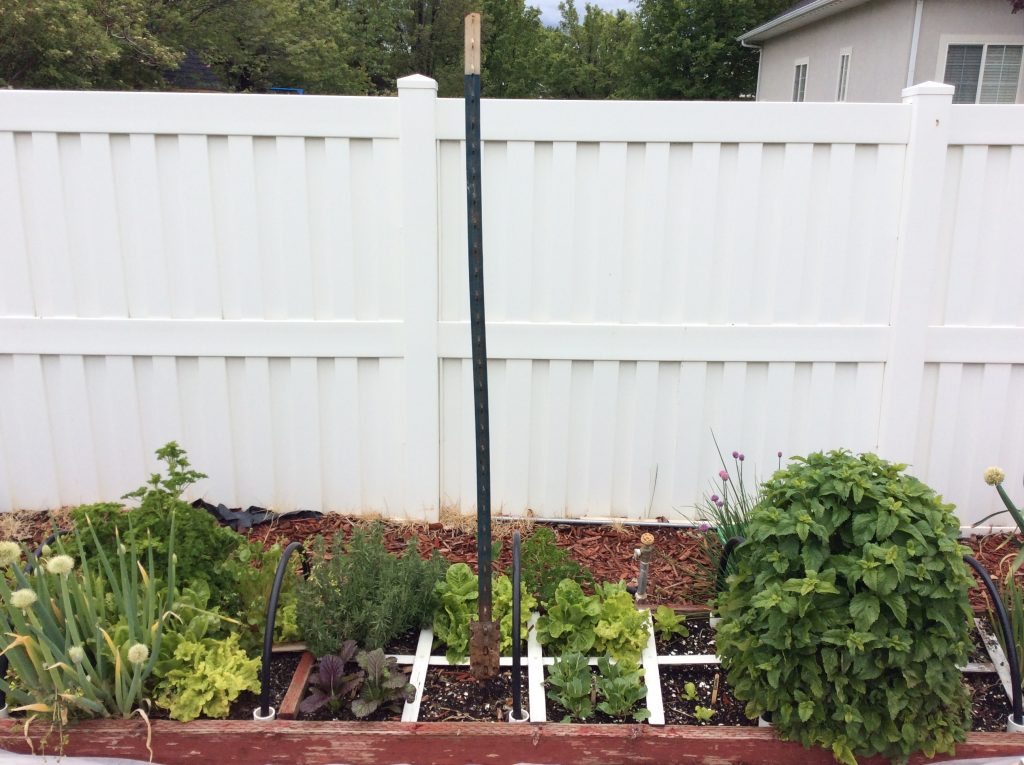 Here's the short continuation to my last post. Using one of these, a t-post, is the perfect thing to grow your tomatoes vertically. They are solid and wont be blown over in 70 MPH winds, which is not the case with some of the cheaper and more flimsy aluminum posts that some folks will use. These cost about $5 each and will last forever.
The other important things to remember when using a t-post are: 1)growing indeterminate tomatoes, 2) keeping the suckers pinched back, 3) tying the tomato stem to the t-post every foot or so(I use velcro but string works just as well), and 4) buying the right size post. I buy 8′ posts and pound one foot of them into the ground, leaving 7′ above for the tomatoes to grow. They're a struggle to take out of the ground by the time the season ends, but I think it's the way to do it. My tomatoes will sometimes overshoot the tops of the post, in which case you have two options. The first is to do nothing and let them grow. My season is short enough that they don't end up growing too much over the top. The second option is to cut them off as they overshoot the t-post.
I hope that gives you a good idea of what works for me. Speaking of what works, you ought to check out my new ebook. This is the season where it's most applicable. As any gardener will tell you, growing summer lettuce is very difficult if you live in a geography that is hot and dry. If you live in a more moderate part of the county where you continue to get moisture through the season it might not be as hard. Lettuce seeds won't even sprout once it gets to 80 degrees. This book explains the 5 techniques that I've used to successfully feed customers in our hot and very dry climate. For me, its a real downer to have vine ripened tomatoes, cucumbers, and carrots ready but no lettuce. And once you've had lettuce harvested from the ground 5 minutes before consuming it, you'll never want to buy store bought again
free square foot gardening seasonal newsletter
Thanks for installing the Bottom of every post plugin by Corey Salzano. Contact me if you need custom WordPress plugins or website design.
free square foot gardening seasonal newsletter