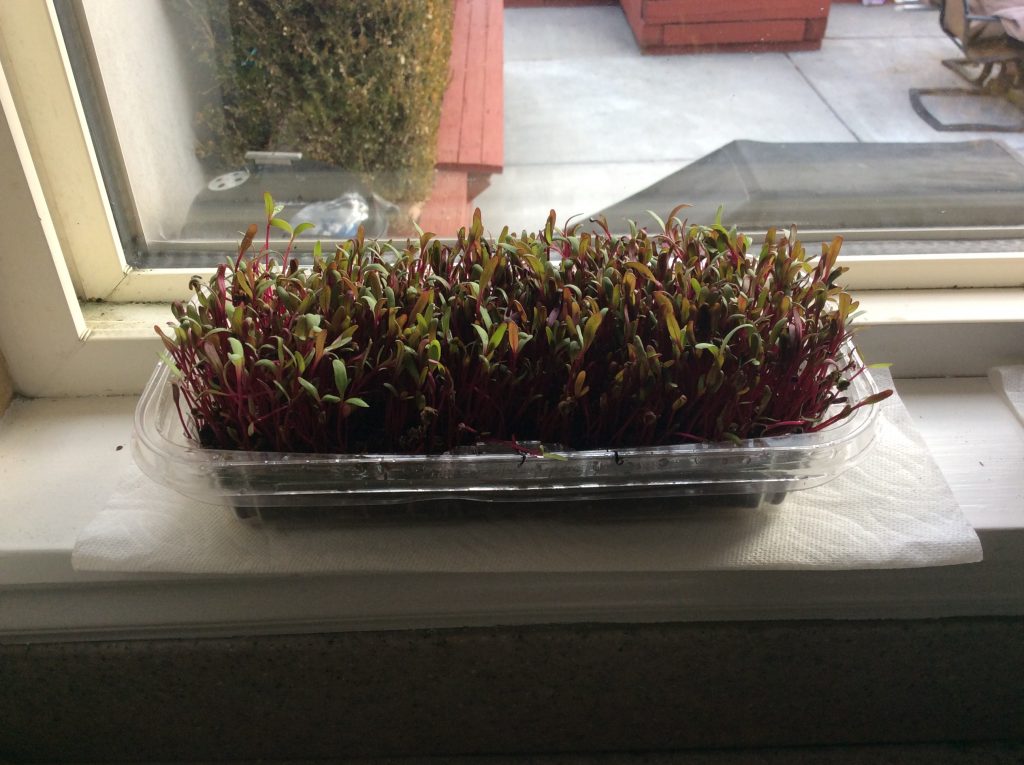 Winter can feel long, dark, and lonely. Thats especially true if you're a gardener, used to seeing plush green colors throughout the year. Many folks put their gardening chores away right around the Labor Day weekend, or shortly thereafter. Then they might start back up again in mid-March or the first part of April. Thats 6 months! A long time to not see green.
I like to grow microgreens all year, but I particularly enjoy it during the winter months when it seems like everything is cloudy and just brown. I love growing them not for just the nutritional value and taste, but also because it gives me something to put on the counter during December and January thats alive and green. They are so easy to do. Its a great hobby and you get the reward of eating something delicious. They require nothing elaborate, in fact, they are grown and harvested as you see in the picture-on a windowsill. A little snip of this on top of a salad, on a baked potato, or even added to scrambled eggs will light your taste buds on fire. Another great thing about them? They generally only take about 8-10 days. If you've never tried them you should.
In the meantime, did you see my newest ebook? It surely hasn't set the world on fire, probably because there's not many places that are experiencing warm weather in January and February, so why bother? There are plenty of us around who love lettuce all year but growing it in the gardens during summer is really hard if you live in a place where temperatures get to be 80-85 plus degrees. If thats the case, this short ebook is for you. Warm weather gardeners know the challenges of trying to keep lettuce going through summer. This ebook teaches the 5 techniques that I've used to be able to harvest lettuce in our very warm summers. I hope you enjoy it. &nbsp
free square foot gardening seasonal newsletter
Thanks for installing the Bottom of every post plugin by Corey Salzano. Contact me if you need custom WordPress plugins or website design.
free square foot gardening seasonal newsletter