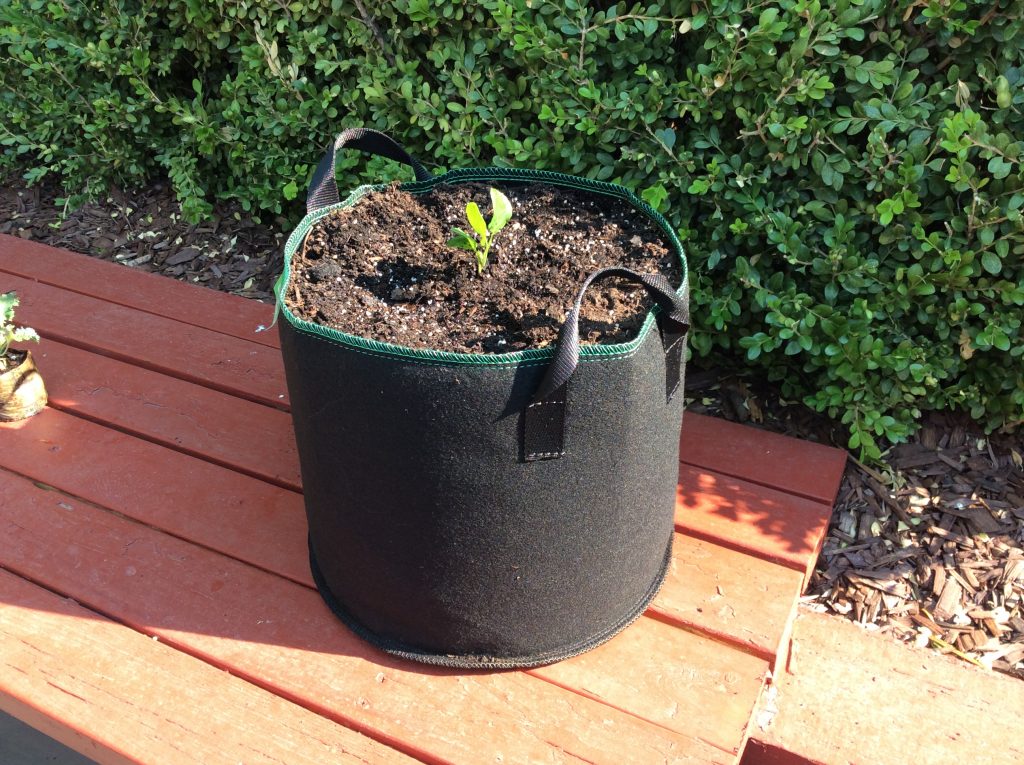 I've been experimenting with these for the first time this year.  All I can say is: wow! They are just spectacular!  I tried one for potatoes in the spring because I didn't have any room left in my square foot gardens.   I haven't harvested those yet but I can tell you, it looks like its grown a massive amount.  I also grew on deck corn successfully-a special container variety from Burpee.
These grow bags come in many sizes.  The one pictured is 5 gallons.  I'm growing my brussel sprout plant in it and I think it's going to do well.  I'm hoping it will.  Brussel sprouts can be a challenge around here with aphids in late spring and summer.  So, I'm now trying-again-to grow them in the cooler season and use floating row cover over it in a couple of weeks.
These grow bags are solid.  Because of the nifty side handles they can be moved wherever you want them. For folks who want to have a garden but have no room, these are perfect!  You could have several of them on the patio, move them around, and grow many different crops in them.  You can look at the different sizes and colors here.  Garden Supply is having a great year end summer blow out with items up to 80% off.  You might find some items you'll use next spring at huge discounts.  Give it a look.
If you're lucky and have a kale transplant around, plop it in one of these and place it next to your backdoor.  It will perfect for winter use and you can't kill kale.  You won't even have to cover it!    For those who took my winter harvest gardening class this morning, their floating row cover looks pretty good
free square foot gardening seasonal newsletter
free square foot gardening seasonal newsletter