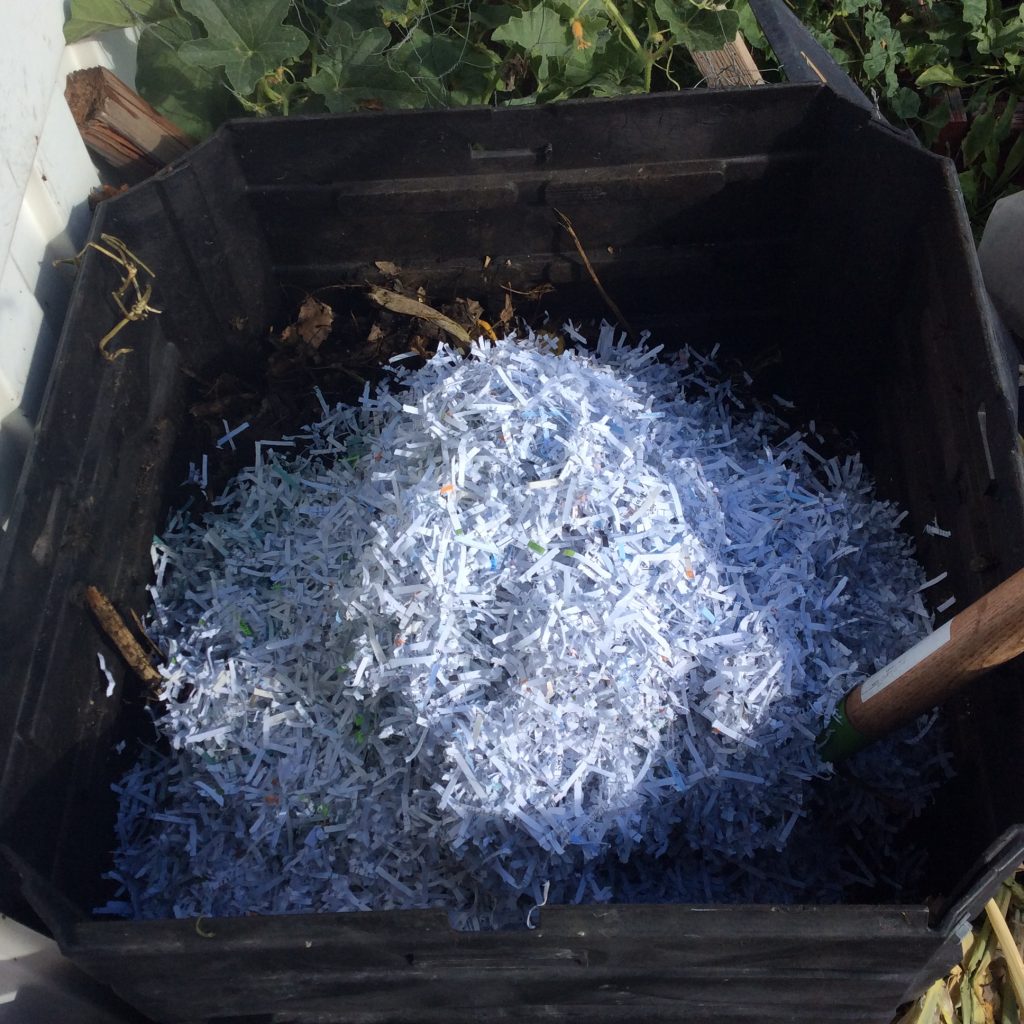 This will probably be my last post of the year about composting.  I spend a lot of time on it because I think it's important and one of the biggest reasons for the success I've had as a square foot gardener.  In the northern parts of the U.S. where winters are harsh it's still a great idea to use the winter months to collect material to add in the compost unit even though you're not actively composting.  During the warmer months it's important to keep your compost damp-like a rung out sponge.  That changes during the winter months.
The goal of the bin at this time is to be ready to make compost as early as possible in the spring.  It's too late now to make a finished batch of compost.  If you water your compost bins now as you do during the warmer months, the freezing temperatures will turn your bins into ice cubes.  It will take a lot longer to thaw compost piles out come spring when that happens.
I make sure to only add material during winter.  When its time to begin actively working the compost in late February, I don't have to worry at all about waiting for it to thaw. It's ready to be turned and aerated.  An important item is to have a nice compost unit to store material.  I've had mine for 16 years and I think I bought it for $35.  Its made out of a solid piece of hard plastic.  Its got a nice to for removal and 2 access doors.  I've had folks ask me where I got mine and they can be hard to find.  Sure, there are others, but I love mine.  Whatever you do, try to avoid the spinning ones.  I've got a strong bias against using those for reasons I can explain later.  I was able to find my exact compost unit through Amazon.  It's a lot more expensive, but its the right one.  I've linked the compost bin on my blog.  I hate to even think about it, but what about a Christmas gift?  These are nice looking units that hold up well and don't break down.  Give it some thought.
As I removed the top of the bin last week it smelled a little bit like a sewer.  Not that strong, but a little bit. This tells me that its too moist and too much green material. Having used up all my leaves from last fall, I had to find a suitable brown material, which I did in the form of shredded paper.  The pile is now back to a neutral smell.  The senses of sight and smell can really guide you when making compost.
Use this time to gather as much material as you can.  Come spring, you will be glad you did
free square foot gardening seasonal newsletter
free square foot gardening seasonal newsletter