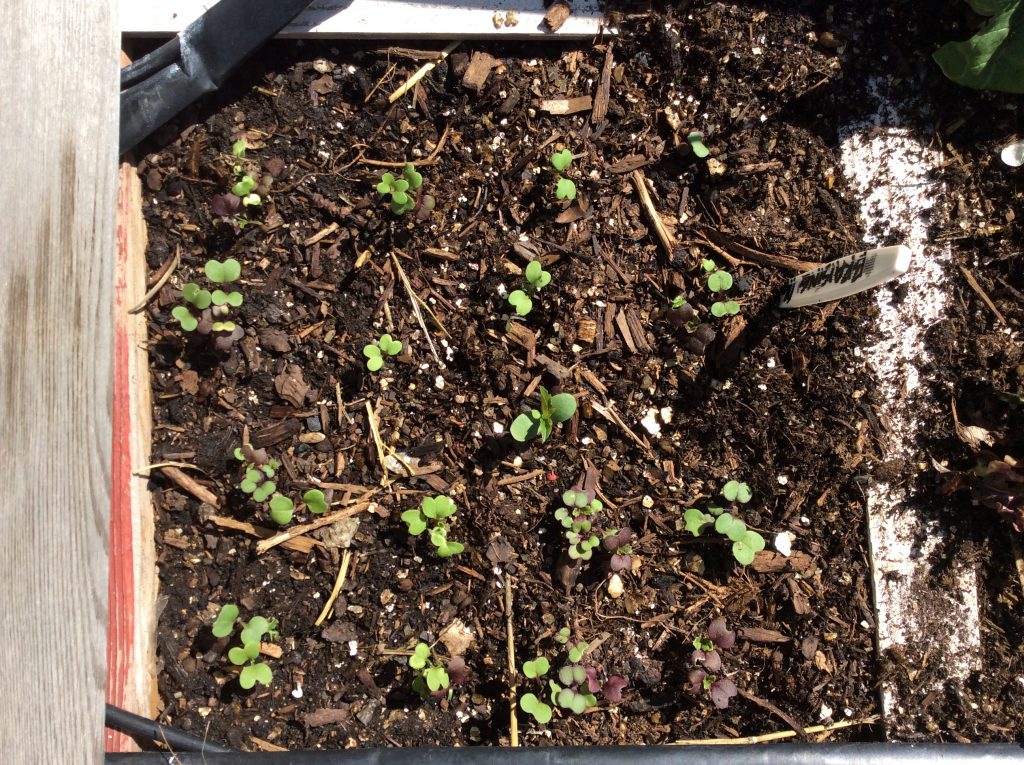 Last year I experimented with a brand new crop.  It grew quickly and had quite a different taste.  These are braising greens.  As mentioned they came up in about 45-50 days in the cooler temperatures of spring.  The first couple of squares I harvested were used as a salad mix-in.  The last few squares were used for stir fries with snow peas, garlic, and scallions. I'm not a huge fan of the bitter tasting greens, which these were.  But they weren't over-the-top bitter.  In fact, they were pretty mild tasting because they were grown in cool soil.  I'm so used to the sweetness of regular salad lettuce greens that this initially took my by surprise.
I'm growing them again this year for customers who enjoyed them last year.  This particular variety has kale, tatsoi, red and green mustard, and hon tsai tai.  They're planted 16 per square and by harvest time completely fill up the area.  They can be treated as a cut-and-come again variety but my experience was that the 2nd cuttings were not as plentiful or as good looking. They are a one crop cut and out for my gardens.
For any Utah gardeners interested in learning how to have a successful square foot garden-I'm teaching one last class next weekend. With temperatures in the low 80's it will be the perfect time to begin your summer garden. The class covers all the basics of the SFG system with the added bonus of how to construct a vertical growing structure that will last a lifetime. Classes are only 90 minutes long and you get to see an actual square foot garden in action.
Signing up and registering is easy.  Just click on the Dabble links and they'll guide you through the enrollment process.  I start promptly at 10:00 AM and we'll be done at 11:30. Q&A session follows to answer any lingering questions
free square foot gardening seasonal newsletter
free square foot gardening seasonal newsletter